There are three different expertise levels available so that all learners, beginning to advanced, can find something of educational value. There are prerequisites for each course level, so make sure you qualify for them before applying.

Course Expertise Levels

Entry Level: This level includes the DNA certification program. This course is designed for those who are new to networking and should be appropriate for most beginners. It includes an introduction to the basic concepts of networking technology.The learning process will be reinforced through the e-learning program, which covers networking fundamentals, and includes reference books for further study.

Specialist Level: This advanced level includes the DCS and DSS certification programs. The D-Link Certified Specialist (DCS) program consists of networking theories and configuration lab modules. The D-Link Sales Specialist (DSS) program is designed for those who want to improve their sales skills and enhance their professional knowledge in order to attract potential clients.

Professional Level:The D-Link Certified Professional (DCP) program is the highest level of certification offered. It is designed for networking technology professionals and for those who have already earned their DCS certification. This final step is to allow participants to enhance their skills in topics ranging from network installation, configuration, administration, and troubleshooting.

As part of its training courses, D-Link Academy will also be hosting lab sessions.The purpose of these sessions is to provide a hands-on learning experience so participants may retain additional knowledge.We believe that that the lab sessions will add extra value to our already comprehensive program, and will reinforce participants' networking skills.
Diagram of the certification programs: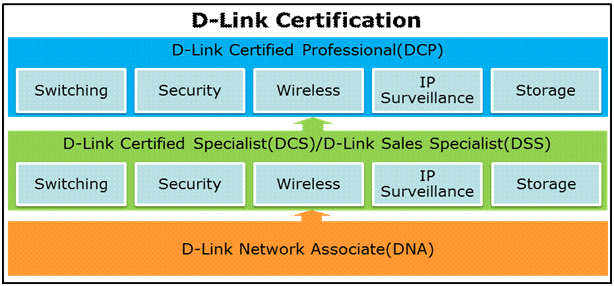 Logo of the certification programs:

For more information you can write us at dlinkacademy@spit.ac.in